SAFE India Expo by IFSEC India Expands its Footprint in Western India to Boost & Cater to Commercial Security Demands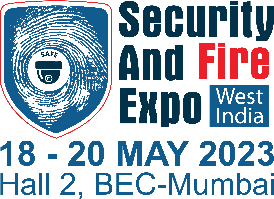 Discover the Latest Advancements in Security surveillance at SAFE WEST India's Debut Edition in Mumbai from May 18th-20th
Informa Markets in India, a leading B2B exhibition organiser, is all set to launch the debut edition of Security & Fire Expo, West India (SAFE WEST India) this month.  Slated to take place from May 18th – 20th, 2023, at the Bombay Exhibition Centre, Mumbai, the event is anticipated to attract over 5000+ attendees, and 75 + brands.
The expo, a subset of IFSEC India, one of the celebrated expos in the Security and Fire Safety domain, will cover a broad spectrum of solutions in the sphere of commercial security with preventive technologies and innovation in the western India market. It will bring together renowned Indian and international brands from video surveillance, access control entrance and home automation, and perimeter protection industries to interact, network, view the latest innovations, source business solutions, and gather invaluable expert support.
The commercial security market in India has been growing steadily over the past few years, driven by increasing awareness about the need for security among businesses and the government. The market includes a range of security products and services, such as access control systems, video surveillance systems, fire alarm systems, intrusion detection systems, and security personnel. Given the nature of external security threats, State Governments are also increasingly adopting video surveillance to improve security and safety. For instance, the Maharashtra government is primarily focusing on enhancing surveillance on the streets to upgrade Mumbai's safety. Small and big enterprises, public sector companies and gated communities, shopping malls etc., across various cities in the Western Region of India are adopting video surveillance technology. More than 10 lakh IP cameras are expected to be installed across the western region of India in the coming five years.
Speaking on the announcement of SAFE West India 2023, Mr Yogesh Mudras, Managing Director, Informa Markets in India, said, "There is a huge demand for safe city projects in India to ensure public safety. The government has taken various initiatives to increase security services revenue which will benefit the citizens as well as the security and surveillance services industry. This is particularly true for the western region of India, which has several smart cities and offers strategic vantage points from a security perspective. A modern civil city should be able to showcase seamlessly safe, smart, energy-efficient, and technologically advanced features. Moreover, rapid technological advancements in artificial intelligence (AI), cloud computing, internet of things (IoT), and cybersecurity are driving the security market in India."
"Our expansion into the western market through SAFE West India is a strategic move aimed at bringing the show closer to end-users in multiple key cities across Maharashtra, Gujarat, Goa, parts of North & Coastal Karnataka, and Madhya Pradesh. This platform will serve as an exclusive opportunity for prominent commercial, industrial, and homeland security players to tap into India's rapidly growing Western market. These leading players can establish a strong foothold in the region through joint ventures, partnerships, sourcing, dealerships, and networks. We are thrilled to bring together the sharpest minds in the industry for this must-attend exhibition and look forward to a successful debut."
With over 75 participating brands, 5000 Plus attendees will be able to witness the most recent industry products, innovations and services and network with potential suppliers and business partners. Premeir Plus Partners: Earth, Hikvision, Prama, Realtime, Tiandy Premier Partners: Biomax, eSSL, Magtech , Rova, Syrotech, Timewatch ,TP Link,Voltaic  Zkteco. Other Key exhibitors: Aavik, Avtron, Bioroles, COFE, CCL, D P Garg, Eagle Eye Networks, Fyber,Hubris, SOS, Lifelong , Securus and  many more.
The event is also supported by various associations namely the APSA (Asian Professional Security Association), ASIS (American Society for Industrial Security) Ahmedabad, Mumbai and New Delhi Chapters, ESAI (Electronic Security Association of India), OSAC (Overseas Security Advisory Council) Chennai Chapter, GACS (Global Association for Corporate Services) and Mitkat Advisory.
Attendees will have the opportunity to learn about the latest trends and innovations in the industry, including Drones AI & IOT & Network Security, Surveillance Cameras with Night Vision, Digital Video Recorders, Encoders & Decoders, Security Alarm System, Audio Video Door Phones, RFID Systems, Bio Metric Systems, Access Control, Security gates, Guard Patrol Monitoring System, Electric Locks, Entrance Management Solutions, Home Automations, GPS Tracking, Swing Gate Barriers, Anti- Theft EAS  Systems, and more. One of the highlights of the expo will be the release of the whitepaper – Geopolitical Risk Report 2023 in collaboration with MitKat Advisory as Knowledge Partner. Addressing the challenges expected in 2023, the report will provide a comprehensive analysis that enables a greater understanding of India's risk landscape and will deliver a detailed forecast for various risk categories including but not limited to cyber security, economic, political, and infrastructure in 2023.
The event will also be organising an insightful two-day conference and will comprise in-depth speaker sessions and panel discussions on trending topics such as Tech n Trends in Global Security Operations Centres (GSOC); Integrated Technologies for Safe Cities in the New Normal; Reimagining corporate security; evolving Role of CSOs – Security Manager to Risk Manager to Business Manager; Reimagining Cyber Security for a Hybrid Workplace; The Role of AI & ML in Critical Event Management; Managing Security Across Locations Globally – Risks & Challenges; Ensuring Diversity and Inclusion in Corporate Security, Safety & Loss Prevention amongst others. According to a report by the Organisation for Economic Co-operation and Development (OECD), the security industry is a significant and expanding sector of the economy. Studies estimate the national cost to be approximately 20% of India's GDP. SAFE West India is part of Informa Markets' ongoing series of events in the security sphere. The expo has successfully united security and fire professionals, industry experts, and key government officials from various regions to deliberate on the latest industry trends and innovations.
About Informa Markets
Informa Markets creates platforms for industries and specialist markets to trade, innovate and grow. Our portfolio is comprised of more than 550 international B2B events and brands in markets including Healthcare & Pharmaceuticals, Infrastructure, Construction & Real Estate, Fashion & Apparel, Hospitality, Food & Beverage, and Health & Nutrition, among others. We provide customers and partners around the globe with opportunities to engage, experience and do business through face-to- face exhibitions, specialist digital content and actionable data solutions. As the world's leading exhibitions organiser, we bring a diverse range of specialist markets to life, unlocking opportunities and helping them to thrive 365 days of the year. For more information, please visit www.informamarkets.com
About Informa Markets and our business in India
Informa Markets is owned by Informa PLC, a leading B2B information services group and the largest B2B Events organiser in the world. Informa Markets in India (formerly UBM India) is India's leading exhibition organizer, dedicated to help specialist markets and customer communities, domestically and around the world to trade, innovate and grow through exhibitions, digital content & services, and conferences & seminars. Every year, we host over 25 large scale exhibitions, 40 conferences, along with industry awards and trainings across the country; thereby enabling trade across multiple industry verticals. In India, Informa Markets has offices in Mumbai and New Delhi.
For any media queries, please contact:  
Roshni Mitra – Roshni.mitra@informa.com
Mili Lalwani – mili.lalwani@informa.com