Protect your people and installations with 'explosion-proof' security cameras
"In a wide range of industries – from oil & gas, to chemical manufacturers, and processing plants – flammable materials and gases are often present. To protect people and installations in these potentially hazardous environments, 'explosion-proof' equipment, including security cameras, is needed," said Jayson Gao, Senior Product Manager of IP Cameras at Hikvision.
At sites where combustible gases, chemicals, powders, or other flammable materials are present, fire and explosions are a constant risk. This means that companies working with flammable materials don't just need to ensure that employees are working safely and using the right protective gear. You also need electrical and other equipment that is safe, never creating sparks or flames that can lead to a much bigger explosion.
Unfortunately, with traditional security solutions – and CCTV cameras in particular – this is not possible. The plastic casing on most products means that sparks and flames triggered by a short circuit or other fault in the device can quickly come into contact with the atmosphere or nearby equipment.
While you may not be able to control the presence of flammable gases or materials in your environment, you can control the combustion source with 'explosion-proof' security equipment, including cameras. These kinds of cameras are not necessarily able to survive an explosion or major fire, but they can ensure that no spark or flames that originate in the device itself can cause wider damage by igniting gases in the environment, or nearby flammable materials or other equipment, for example.
Key features of 'explosion-proof' security cameras
To ensure that sparks or flames originating in the device never cause a fire or explosion, cameras and other security devices need to be 'hardened' in specific ways. These include:
Use of explosion-proof materials for the product's outer casing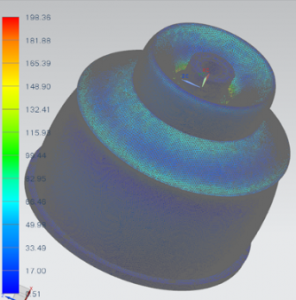 The leading explosion-proof cameras use 'explosion-proof' materials to ensure that sparks and flames do not ignite either the atmosphere, or nearby equipment. Typically, this means that the device is entirely covered by an additional layer of stainless-steel – often up to 3.5 millimeters thick. By using this thickness of steel, manufacturers can ensure that their devices can withstand up to 1.5 x the pressure found at the core of an explosion.
Incorporation of explosion-proof design principles and structures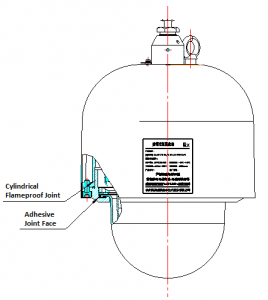 By using a cylindrical flame-proof joint design inside the stainless-steel product casing, internal explosive gas can be guided to a conduit, so that sparks and flames never come into contact with the environment. In other words, a fire that starts inside the camera for electrical or other reasons cannot traverse the casing, ensuring that fire never spreads from a camera to other equipment or other areas of the site.
Find out how with Hikvision explosion-proof cameras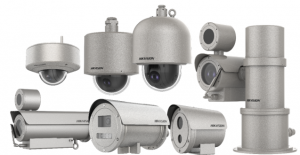 If you operate in a hazardous environment, or work with potentially dangerous or flammable materials, our explosion-proof cameras can help you boost your health and safety and minimize the risk of fires and explosions.
With an extra-thick stainless-steel outer casing, our explosion-proof cameras prevent sparks and flames from causing an explosion or fire. As an additional benefit, we have built AI technology into the cameras to help you recognize potentially dangerous working practices or behaviors – such as improper use of hard hats – and to trigger alarms immediately to the security team if people or assets are at risk.
Our explosion-proof camera range includes bullet cameras and dome cameras, with Hikvision's DarkFighter technology built-in for excellent-quality imaging in low light conditions. The cameras also offer end-to-end encryption for video data, with anti-corrosion capabilities and lightning protection as standard.
Hikvision 'explosion-proof' certifications
Our designed-for-purpose explosion-proof cameras have achieved a long list of accreditations and certifications, both for explosions caused by gases, and explosions caused by flammable dust and other elements. In particular, our products are certified to ATEX, IECEx, and UL 60079 industry standards, which ensure that they can be used in the most hazardous areas that are subject to rigorous requirements. Specifically, the IECEx is a highly recognized certification system operated by the International Electrotechnical Commission (IEC) for access to international markets, while the ATEX Directive is applied in the European Union for equipment intended for use in potentially explosive atmospheres. UL 60079, issued by Underwriters Laboratories, is a test standard regulated by NEC 505, which is used in North America for electrical equipment in explosive atmospheres.
For more information, please visit us at www.hikvisionindia.com.