Matrix showcased its Wide range of Security and Telecom Solutions at Intersec 2023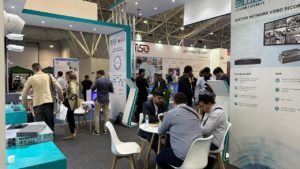 Matrix unveiled its extensive lineup of Security and Telecom Solutions at the Intersec 2023 event held at the Riyadh International Convention and Exhibition Centre (RICEC) in Saudi Arabia. As a participant in the 5th Edition of Intersec Saudi Arabia, Matrix showcased a wide array of security and telecommunications products to an esteemed audience.
In the realm of security, Matrix presented a comprehensive portfolio spanning IP Video Surveillance, Access Control, and Time-Attendance solutions. Additionally, within the Telecom sector, Matrix exhibited its sophisticated business-class communication products and services.
Dedicated to addressing customer needs and ensuring satisfaction, Matrix heavily invests in technological advancements, employing substantial assets and resources for research, design, and the production of top-tier solutions. With over three decades of industrial expertise, Matrix boasts a portfolio featuring more than 60 products in the security and telecom sectors, serving over 1 million customers across 50+ countries worldwide.
Matrix placed a strong emphasis on proactive video surveillance for organizational safety and security, highlighting its superior cameras during the event. These cameras, boasting lens resolutions ranging from 2MP to 8MP, encompass bullet, dome, turret, Ruggedized, and PTZ variants, delivering exceptional image quality even in low-light conditions. With prestigious certifications such as UL and NEMA, Matrix cameras provide globally recognized standards of safety and environmental protection, ensuring proactive security for organizations.
Matrix also showcased its Server-Based Network Video Recorders (NVRs), offering robust video recording solutions with massive storage capacities of up to 144 TB. These NVRs ensure uninterrupted 24x7x365 surveillance, featuring hot-swappable hard disks (HDD/SSD) to minimize downtime. Pre-installed Video Management Software (VMS) further enhances efficiency, providing a flexible solution that caters to organizations of all sizes.
In the Access Control and Time-Attendance domain, Matrix proudly revealed its unique position as the sole OEM (Original Equipment Manufacturer) developing all architectural elements in-house. This includes panels, door controllers, readers, and software. At the 24th edition of Intersec, Matrix showcased COSEC ARGO FACE, a smart door controller equipped with high-speed face recognition technology. With features like Adaptive Face Recognition, Face Liveness Detection, and Mask Compulsion, this device addresses modern security and health concerns. Its deep learning algorithm enables lightning-fast identification in under 0.5 seconds, accommodating up to 50,000 users and providing high-grade security.
Another highlight of the exhibition was the Matrix COSEC PANEL200P, a multifunctional Site Controller capable of managing up to 255 COSEC door controllers and 25,000 users. It acts as a bridge in network architecture mode, connecting door controllers to servers, and can function independently as the central unit for controllers in standalone architecture mode. Furthermore, Matrix displayed its diverse range of Door Controllers and Readers at the event.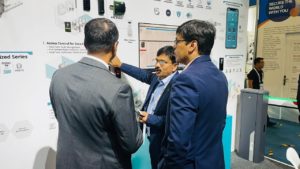 In addition to its security offerings, Matrix holds a prominent position in the telecom sector, delivering comprehensive communication solutions to organizations. Among these offerings, Matrix showcased ETERNITY NENX, a unified communication platform suitable for small and medium-sized enterprises transitioning to IP Telephony. With support for IP Users, LDAP clients, and multi-level IVR, this device facilitates seamless business communication. Additionally, SPARSH VP210, a robust desk phone with third-party IP compatibility, was on display, enabling organizations to maximize their existing telephony infrastructure and reduce upgrade costs while achieving a modern telephony architecture.
Matrix's presence at the event extended to a broad spectrum of telecom solutions, encompassing PBXs, IP-PBXs, Server-based PBXs, Media Gateways, and Communication endpoints, showcasing its commitment to meeting the diverse communication needs of organizations.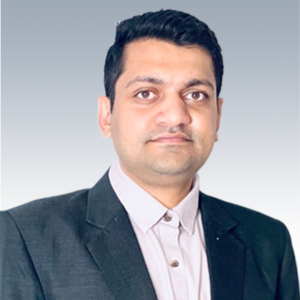 "Intersec 2023, has always been a great opportunity to strengthen our ties with the UAE market and its surrounding regions by connecting with system integrators and leading business associates. This event was a great opportunity to understand the trending market needs. This will benefit us in designing telecom and security solutions accordingly." stated Kaushal Kadakia, Manager Marketing, Matrix Comsec Pvt. Ltd.

FOR MORE VISIT: WEBSITE