Hikvision Solution Ensures Secure Vehicle Management for Factories and Manufacturing Facilities
The factories and manufacturing facilities are the hub of core economic and industrial activity helping to create a positive impact on the local economy, employment and manufacturing ecosystem. The security and efficiency are the key concerns for the stakeholders. There are efficient way to manage Factories by implementing security solutions.
Solution Overview
The factory is a synthesis of personnel, assets, equipment, and machinery. Therefore, complicated challenges arise frequently in a factory, such as personnel mobility and fire hazards. Hikvision's Solution by Scenario for Factories provides more cost-effective ways to guarantee efficient and safe production, and property protection. Secured by our professionally selected products and subsystems, the whole solution can bring more momentum and productivity to factory operation.
Vehicle Management
The biggest challenge faced in factories and manufacturing facilities is the entry logs of authorized Vehicle entrance and exit. The Vehicle Management data continues to be the perpetual challenge for the Factory Management and Security Personnel.
Challenges
Manual identity check for drivers and vehicles can be inconvenient and time-consuming, as well as difficult to trace back when looking for specific vehicle records.  In manual identity check there is always a chance for human error.
Solution
To replace manual identity check with Hikvision Automatic Number Plate Recognition (ANPR) Cameras can enhance the security by automation of the Vehicle authorization process. Thus, adding efficiency and security for Vehicle Management via hands-free, drive-through ANPR authentication and easy-to-retrieve records.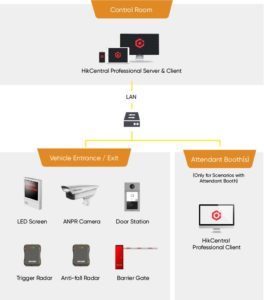 Advantages
Secure and efficient vehicle egress
Hands-free, non-stop, authenticated drive through

Support for block-list alarm / VIP notification
Operational efficiency boost 
Easy-to-retrieve records via "fuzzy" license plate match

Automated alarm push for block-list vehicle and full parking area
Simple, adaptable deployment
Card and video intercom in one unit                                     

Adaptable in scenarios with or without attendant booth
Features
Authenticated vehicle access using ANPR or ID card                               

Support for granting access remotely via video intercom

Vehicle records and parking statistics reports

LED display of available spaces and other parking info
For more information, please visit us at www.hikvisionindia.com